Slipstream or integration of Office SP1 Update into Microsoft Office 2007 System
Recently Microsoft has been released Office 2007 SP1 update. It includes important customer-requested stability and performance improvements, while incorporating further enhancements to user security. This service pack also includes all of the updates released for the 2007 Office suite prior to December of 2007.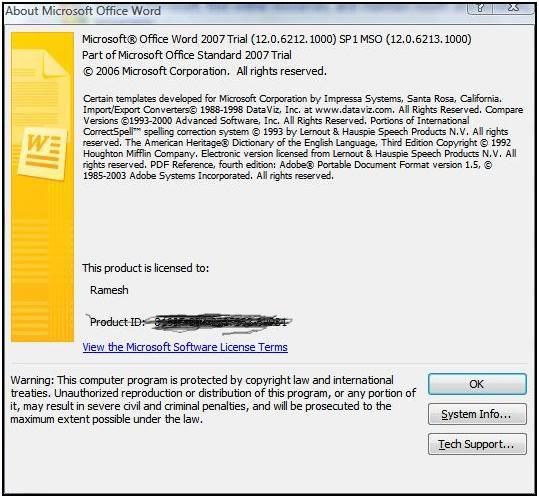 Now, Today I am sharing a simple tutorial or guide that help to slipstream this update into Office 2007 RTM. It saves update installation time after installing Office 2007 RTM...and you can make your up-to-date Office 2007 disc! Microsoft has been change the way to deploy Office 2007 updates…now it becomes so easier than earlier Office suites... its simple three step deployment.
# Extract the MSP file of update
# Copy into updates folder at root of Office 2007 disc
# Make your Office 2007 up-to-date disc….ENJOY!
Requires:
Office 2007 RTM
This guide works on all Microsoft Office 2007 versions which are:
Microsoft® Office Enterprise 2007
Microsoft® Office Home and Student 2007
Microsoft® Office Professional 2007
Microsoft® Office Professional Plus 2007
Microsoft® Office Small Business 2007
Microsoft® Office Standard 2007
Microsoft® Office Ultimate 2007
Office 2007 SP1 update from Microsoft's website: [[Download Office 2007 SP1]]
How to:
Create three folders Office2007, OfficeSP1 and Offfice2007MSP (Lets say all folders are created at root of D:\ drive)

Copy all contents of Office 2007 RTM, Downloaded Office SP1 update into Office2007 and Office2007SP1 respectively. (Your folder name may vary…I am just taking an example only.)

Now open Command Prompt and execute below command to get Office 2007 SP update MSP (Windows Installer Patch)



D:\Office2007SP1\office2007sp1-kb936982-fullfile-en-us.exe /extract:D\Office2007SP1MSP



Accept the license and continue.

Now Copy all *.msp files from Office2007SP1MSP to updates folder located under D:\Office2007\updates

Make CD or DVD of your Office suite and enjoy!
All update *.msp files are installed at the end installation of Office 2007.
!!! OK !!!
Source:
Full story @ MeraWindows
This post has been edited by neo: 12 December 2007 - 11:48 PM