I've seen others managing to make NT4's Explorer run under XP or Vista, but as much as I struggled with Dependency Walker and RegEdit, I didn't manage to do much.
So I thought on doing a radical action: completely replace Win2k's Explorer (together with its dependencies - Shell/32.dll,Comctl,Comdlg, etc) with NT4s (no SP) Explorer and dependencies.
In my experiments, I realised that Winlogon depended on 2k's shell32.dll and because of it being replaced, the Logon procedure BSOD-ed.
At first, I tried to also replace Winlogon, msgina and everything that was related to accounts management and login/out.
The best result I obtained here was to bring to life NT4's "Press CTRL+ALT+DEL to log-in" messagebox. After that, it blabbered something about missing user account information and BSOD at the end.
I also thought that instead of trying to replace the entire login mechanism, which would lead to a entire chain of broken dependencies, I thought of trying to find a way to bypass the Logon procedure and sign-in automatically as System (I'm not worried about the potential security risks. I know the risks involved, but I'm not interested in that).
And so, I found XP Embedded's Minlogon which due to the fact that it throws down the garbage the entire accounts system and logs you in as System, it fitted the job perfectly. Plus it seems that it is more memory-friendly than the normal Winlogon.exe
After nailing the "Logon Procedure terminated unexpectedly" BSOD, I went on to implanting NT4's shell. To my surprise, it worked !
And here is the result of my labour :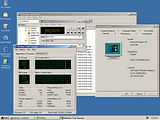 As you can see, the System Applet clearly shows its NT5, not 4, in the background, you can see NT4's IE-free Explorer and also Taskmanager showing the very low memory usage of the system.
I had to change all the cpl's with the NT4 versions and I also had to expand NT4's sndvol32.exe because the 2k one failed to load (vanished from start-bar).
Known bugs : -keyboard dead when trying to write text and when typing a file's name for quick jump in explorer (short-keys work though -ie. CTRL+C/V/X, WinLogo+E, etc)
-My Computer desktop icon links not to Explorer.exe but to NT4's Find
-clicking on a folder in the right-hand window of Explorer will also open Find instead of the folder (although Find does open pointing at the folder that you tried to access)
-double-click doesn't work on opening stuff, instead pops-up the context menu with "Copy files Here/Create Shortcuts Here"
-deselecting a file from a selection group will paste all items selected in the current folder.
-default-installed Microsoft games (minesweeper, solitaire, etc.) and Outlook are erased. Other programs are missing short-cuts on the startbar (kinda expected that to happen)
-NT4 Explorer doesn't seem to use its default icons (probably it accesses a 2k-version library which contains newer icons and not the default NT4 set)
Other than that, everything works perfectly fine ! (Oh, and no IE whatsoever)
Comments, suggestions are welcome.
EDIT: Please excuse me! I put the image without the Task Manager. Fixed.
Edited by BogdanV, 08 July 2009 - 08:49 AM.