How to make Autoplay Media Studio launch like a shell and run applications in Windows RE, PE environment. By NextClick
Tools Needed: Photoshop or something like it and Autoplay Media Studio.
Making a Menu Panel
When using Autoplay Media Studio (AMS) as a shell you are able to use Photoshop to create some very nice pictures in which you can add text and graphics to customize the look of your shell.
In figure 1, I used a picture that I took from the Internet and added text and more graphics to spice up the shell very simple to do in Photoshop.
NOTE: Image size is 530 x 325 74.9 kb, don't let them fool you size does matter :-). You don't want a too big of a menu taking up allocated memory.
Fig1.
Fig2.
Figure 2, I saved this file as menu background.PNG(MBK.PNG) we will import this file into (AMS) later.
Launch Autoplay Media Studio (AMS) and create a new project. It is best to choose a name for your project before you begin. The next thing you want to do is to click on project and then click settings. At this point you want to look for the Dimensions pane and adjust the width and height to match your menu background PNG file.
Fig3.
Once we've set our dimensions to match our menu background PNG file (MBK.PNG) we can import it into our (AMS) project and you do that by clicking on object and click on image.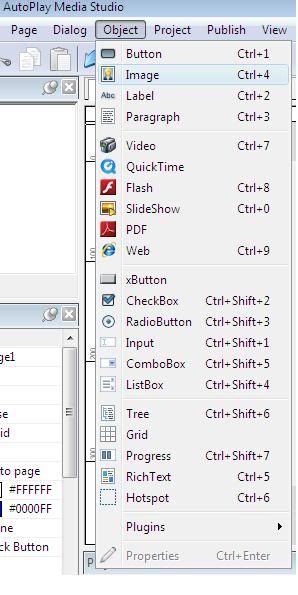 Fig4.
Select your image from the location you saved it. You may need to click and drag the image into the (AMS) project to align it correctly.
Once you have your menu background PNG file aligned correctly in (AMS) it is time to make the menu active.
Make your Menu Active:
We will do this by clicking on objects select hot spots.
A hotspot can be used to make a certain Area, Text or Picture clickable in which you can launch a program from.
Fig5.
You can click, drag and resize the hotspot to fit your text dimensions. You well need to repeat this until all menu items have a hotspot.
Now in order to make the hotspot launch a program you will need to double-click on the hotspot area once that's done a hot spot property box appears. Click on quick action then you will need to click on *When object is clicked action will run* arrow and select run program.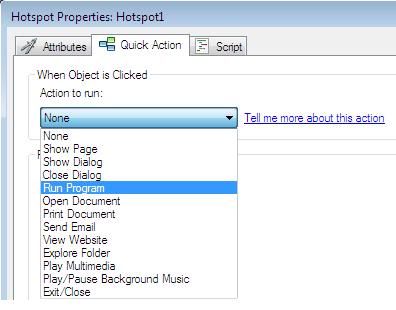 Fig6.
Browse to find the desired executable and then double-click on it. You will need to repeat this for every hotspot you have created on your menu.
NOTE:
it is best to manually create a folder in your project with the desired application's name and copy all the applications files into the folder. Sometimes (AMS) only copies the executable file into its documents folder if you manually create a folder and import the files you can assure that the program has all its files needed.
Once you have assigned all your hotspots to a function you can test your application or shell by clicking on publish and then preview. This will launch your application in a preview mode so that you can see how it looks and test its functions.
How to make our a (AMS) menu run in Windows PE environment:
(AMS) will need to additional DLL files these files can be obtained freely from the Internet and they are.
Msacm32.dll
Oledlg .dll
These files are to be placed in your main project * CD_ROOT * folder. To build a finished product click on publish and then build you may need to click continue and then review your options on how you want to build your project, I chose web/e-mail executable my whole project is basically one executable file. I basically copied into my boot.wim file and create a * winpeshl.ini * file in the Windows/system 32 folder. Make sure you point your winpeshl.ini file to your autoplay menu studio project file. If your using Setres you can edit your Startnet.cmd file add this before all others that way your Resolution is set.
Example: Setres h1440 v 1024
If you follow this guide correctly once you rebooted your boot.wim file you should see your custom made shell.
You can test your fully functional project by copying it to a flash drive booting from a Windows PE environment CD and launching your project from your flash drive.
I think using autoplay media studio along with Photoshop will bring a endless design capability have fun with it. PS. Sorry for the BIG pics :-).
NextClick
Edited by NextClick, 30 August 2010 - 10:53 PM.