Any help in making this dinosaur function properly will be appreciated
.
In those last years of the XX century when this machine was born I knew little about software, and very little about hardware, so this is gonna be a challenging archaeo-compu-logical exercise for me
. I'll use this PC initially to play DOS and Win9x games, but later I'd like to add some more serious function, maybe with WinXP on another partition
(although I expect people in this forum to convince me to remain in Win98
)
.
The hardware
- Mobo: Tekram P6BX-An (chipset Intel 440BX)
- CPU: Pentium II Deschutes 350MHz/FSB100
- RAM: 768 MB (3x256 SDRAM 133MHz)
- GPU: Riva TNT2 64 32MB AGP
- HDD: Seagate Barracuda 7200.7 120GB
- 1x DVD drive
- 1x 3.5" diskette drive
The SO: Windows 98SE
(spanish language version)
After many years peacefully sleeping in hibernation, the venerable machine is again alive & looking for trouble
: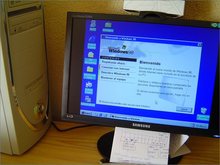 And the first problem is ... 32GB HDD limit.
To fully use the 120GB HDD (currently jumpered to 32GB) I understand there are two hurdles in the road:
1) Award BIOS pre-summer '99 bug (32GB)
2) Fdisk.exe limit (64GB)
I've got a fresher
v1.08 BIOS version for up to 128GB HDD
. I've also got some different versions of the AWDFLASH.EXE utility. The maneouver is explained at the end of the mobo manual, here:
Mobo Tekram P6BX-An MANUAL.pdf
153.68KB
7 downloads
I remember that in those days flashing BIOS was a bit like playing russian roulette
, so if anyone more experienced could recommend the fail-safest procedure, which version of AWDFLASH.EXE would be best for this mobo, etc. may be I don't crash jumping the first hurdle
.