You could TRY going into SAFE MODE (the only way to see old/hidden) and UNINSTALL all USB-related items, then reboot into BIOS and try disabling (ref the photo) IRQ->USB assignment , then see if Windows "picks up" ONLY the VIA Add-In (and make sure the Drivers are "findable" or maybe need to reinstall).
Tried as you said. Found several USB 'ghosts' when in safe-mode, then deleted everything under 'USB controllers' in device manager. Then disabled 'Assign IRQ for USB' in BIOS. On restart Windows, asking for Win98 installation CD, reinstalled everything again as in the picture I posted above: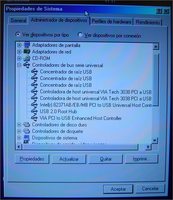 But when I inserted a pendrive its light began flashing AT LAST!
Then came a message 'new hardware found' and I let Windows search for the most suitable driver for the new device, installed it, and finally the pendrive was recognized, and it appears as 'E: extractable disk' in Windows Explorer
.
HOWEVERRRRR ... the instant I click on E: , Windows frozes and hungs
. No BOD, but I have to reset.
Seems you are having more problems with the Intel (on-board USB1.1) than the VIA (Add-in USB2.0).
May be I could try the procedure again, and this time cancelling the installation of any USB drivers, except the VIA add-in USB2.0 ones (which I think are the last two lines under 'USB Controllers' in the picture)?
... add as a new dword value ACPIOption=2 ...
Just to be sure: Hexa, decimal, or doesn't matter?
Turn it on again, and go into BIOS, and change all of the followng settings as indicated.
Sorry Dencorso, I'm not sure exactly which following settings are you referring to?