I just installed Server 2012 RC (Datacenter) on a notebook. It seems pretty simple, although getting places is kinda annoying. Things I noticed so far:
- I was not able to change the computer name and join to a domain at the same time.
- I was not able to join to a domain (2008 R2 with 2008 functional level) unless I set a static IP. Every time I tried prior to that, I got a "can't find the domain" error, even though it prompted me for the domain credentials already.
- After adding to the domain, and adding the WDS role, I was able to add it to the main WDS (2008 R2). I presume since it was being managed by another server, changing some options caused an error.
- I added a boot image, and it was discoverable in the "F11" hack the primary WDS employs.
So far so good. Here is a neat picture: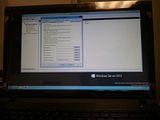 Has anyone else played around with this yet?